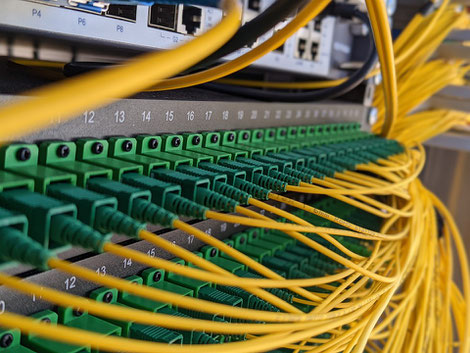 Our feel-good hotel now has a new super-fast fiber optic internet connection.
This means that our guests can not only download up to 1 gigabit (=1000 megabit) of data from the Internet per second, they can also work from the hotel room as quickly as in their company office and take part in high-resolution video conferences and all stream videos from the Internet at the same time.
In order to be able to really exploit this immense bandwidth, it is advisable to use the LAN connections that are available at the writing desks in all hotel rooms in the feel-good hotel - because even the latest WLAN standards cannot achieve this speed in practice. (You can borrow a LAN cable at the reception.)
For all guests who do not need an extremely fast Internet connection and whose device does not have a LAN socket, we recommend using our "NeuHeidelberg-WPA-faster" WLAN, which is particularly optimized for the latest, high-performance WLAN devices.
The registration takes place in exactly the same way as for our long-existing normal WLAN "NeuHeidelberg-WPA", where all WLAN devices can be connected.